Meet our community.
The Echoing Ida community has been network of writers, editors, media professionals, organizers, and policy advocates. To connect with the Ida alum about writing opportunities, speaking engagements, or other projects, please reach out via their social media handle(s) in their bios. 
Jamarah Amani is a community midwife who believes in the power of birth and that every baby has a human right to be breastfed/chestfed. Her mission is to do her part to build a movement for Birth Justice locally, nationally and globally. A community organizer from the age of sixteen, Jamarah has worked with several organizations across the United States, the Caribbean and in Africa on various public health issues, including HIV prevention, maternal and infant mortality, access to emergency contraception and access to midwifery care. She is currently the director of Southern Birth Justice Network, a 501(c)3 non-profit organization working to demand dignity for pregnant and parenting people and to make midwifery and doula care accessible to marginalized communities. She is also the co-founder of National Black Midwives Alliance. Jamarah is the 2019 recipient of the Trailblazer Award from the City of Miami.
Brandi Collins-Calhoun is a radical birth and sex educator in the South that is dedicated to teaching through a reproductive justice lens. She serves as the Director of Reproductive and Maternal Health at the local YWCA where she advocates for adolescent parents, provides perinatal and sexual health education and manages a community doula collective.
Although she was born in Buffalo, NY, Brandi found her passion for both grassroots organizing and reproductive justice in the South while studying African-American history at the North Carolina Agricultural and Technical State University. Brandi was trained as a birth doula while in college and eventually became a full spectrum doula and birth educator. She now facilitates birth and abortion doula trainings for others interested in being trained through a radical framework . As an organizer she is involved in a number of southern grassroots organizations, such as Southerners On New Ground and serves on the board for the Carolina Abortion Fund.
Brandi was also vocal with the #MuteRKelly campaign and Anti-Shackle initiatives across the state over the last year. Of any position or title that Brandi holds, her favorite is Mommy. Brandi parents an amazing teenage daughter who constantly reminds and teaches Brandi that bodily autonomy has space in all that we do and is constantly transforming.
Morgan Holmes is a Black, Mexican-American, multimedia journalist and womanist from South Texas and Southwest Louisiana working towards racial equality, workers' rights, reproductive justice, LGBTQ rights, immigrant justice and environmental justice through storytelling. She began writing about racism, sexism and homophobia on her University's campus and as she entered the workforce, she continued her focus on producing content that worked towards shifting the dehumanizing, mainstream narrative of communities of color.
Morgan's experience as a Black woman in the South and in TX-Mexico border communities has fueled her confidence and passion for addressing anti-blackness as well as organizing in Black immigrant justice spaces to engage in spreading the truth that 'immigration is not a Latinx issue.' Her immigrant justice work at Neta RGV, a multimedia platform in the Rio Grande Valley, consists of writing, video production, photojournalism and organizing practical support for Black people seeking asylum on U.S. ports of entry and in detention centers.
Sophia Kerby is the Deputy Director of Reproductive Rights at State Innovation Exchange. In this role, she supports state legislators across the country in advancing and defending progressive reproductive health policy. Most recently, she served as the Senior Manager of State and Local Campaigns at Advocates for Youth, where she worked with state-based organizations and youth activists to advocate for cultural and policy changes that improved young people's reproductive and sexual health. Sophia brings experience in racial equality, criminal justice, gender and economic justice policy to State Innovation Exchange, having worked on these issues at the Brennan Center for Justice and Center for American Progress. Since 2017, she has served on the board of Reproductive Health Access Project (RHAP). Her work has been published in Feministing, Huffington Post, Mic, and, the National Journal. Sophia is based in Washington, DC, holds a B.A in Government and Politics from the University of Maryland-College Park, and is pursuing a Masters in Business Administration at Georgetown University. You can follow Sophia on Twitter at @SophiaKerby.
Charmaine, an OG Ida, joins our newest cohort. As a North Carolina based writer and researcher, Charmaine Lang's work focuses on the intersections of race, gender and wellness. Charmaine is a doctoral candidate at the University of Wisconsin-Milwaukee. Her dissertation research examines the social and economic determinants of self-care among Black women activists in Milwaukee. It specifically focuses on how activism affects gendered roles, stress management and sexual desire. With her leisure time, Charmaine enjoys playing Singing Bowls, reading the stories of Black women, traveling domestically and internationally and pursuing new food experiences.
Jasmine Leeward is a communications strategist committed to the delicate work of culture shifting towards Black and Brown liberation, particularly in the US south. She currently serves as the Social Media Manager for the Women's March, Inc. She has worked on campaigns to expand access to affordable healthcare, voting rights restoration, and increasing state-funding for public education. One of Jasmine's primary goals as a writer is to translate complex policy into accessible stories that inspire people to action. She sees her writing as a reflection of Audre Lorde's definition of survival: learning how to stand alone, unpopular and sometimes reviled, and how to make common cause with those others identified as outside the structures in order to define and seek a world in which we can all flourish.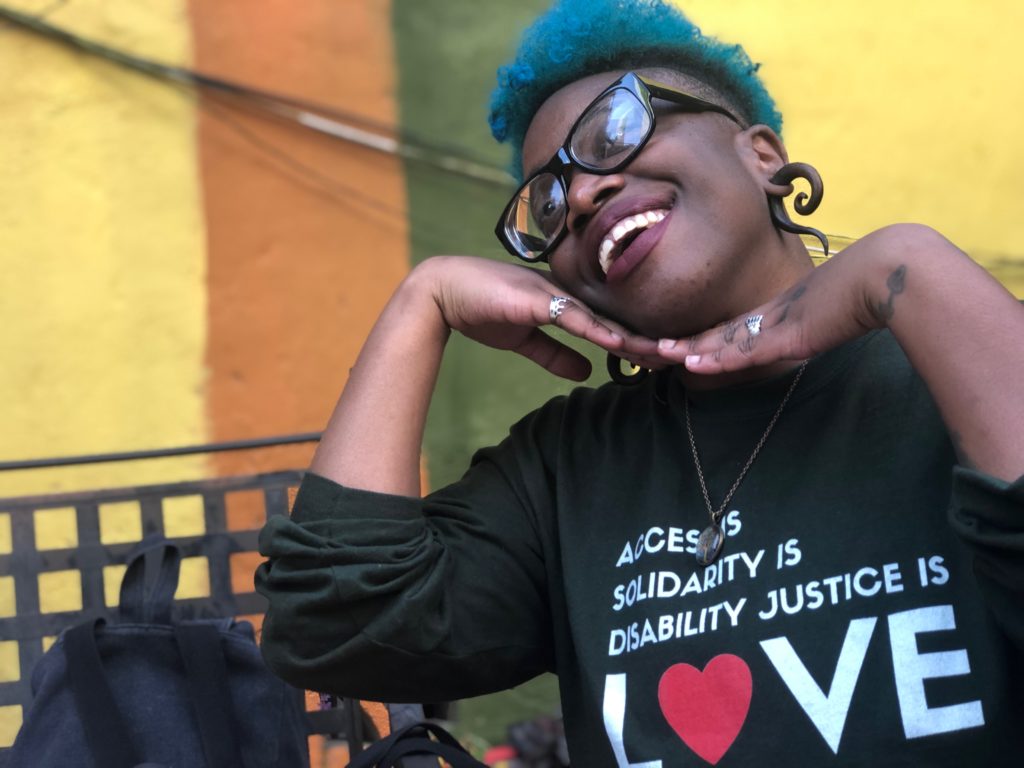 Bri. M (ze/zir) is a Black, Jamaican-American, queer, non-binary, disabled alien-prince from The Bronx. Ze is a podcaster and political agitator with a fierce desire to change the way disabled people are seen in mass media. Ze is the host, producer and editor of POWER NOT PITY, a podcast about the lived experiences of disabled people of color. Bri's episodes serve as a vehicle for amplifying and preserving the voices of disabled people of color. Ze is committed to interjecting disability justice in any conversation zir has and loves to cultivate collaborative energy with writers, artists and storytellers within zir community.
Tamika Middleton has been organizing in social movements for 17 years, serving at every level of organizations from volunteer to interim executive director to board vice chair. She is from the SC Sea Islands (St. Helena Island) which nurtured her love for community and connection to Black people, and was politicized in the movement for the abolition of the prison industrial complex in New Orleans. She is an organizer, birthworker, writer, and unschooling mama who is passionate about and active in struggles that affect Black women's lives. She has organized in the abolition movement, the reproductive justice movement, and the movement for domestic worker rights. She has facilitated trainings, staff retreats, conflict resolution sessions, and strategic planning efforts, conducted organizational evaluations and restructuring, and written curricula and reports of various types.
Tamika is one of the founders of the Anna Julia Cooper Learning and Liberation Center, a cooperative, learner-centered, and self-directed community rooted in a radical Black queer feminist politic. Currently, Tamika serves as the Black Organizing Co-coordinator for the National Domestic Workers Alliance, where she previously served as the Georgia State Director. Tamika also serves as a Community Advisory Board member of Critical Resistance (formerly Southern Regional Coordinator), a Leadership Team member of Kindred Southern Healing Justice Collective (formerly Coordinator), and as treasurer of the board of the Organization for Human Rights and Democracy. Tamika has been published in Creative Loafing Atlanta, Colorlines, Talk Poverty, Voices for Human Needs blog, MomsRising.org, CommunityChange.org, Black Women Birthing Justice blog, and BlackGirlNerds.com.
Jamila Perritt MD MPH FACOG is a fellowship trained, board-certified Obstetrician and Gynecologist with a comprehensive background in Family Planning and Reproductive Health. Dr. Perritt provides, on the ground, community-based care focusing primarily on the intersection of sexual health, reproductive rights and social justice. In addition to her work as a clinical provider in Washington, DC, Maryland and Virginia, she serves as a reproductive health care consultant where she develops, organizes and facilitates health education workshops and outreach events to diverse communities and community partners. Her topics include, but are not limited to, health equity, reproductive justice, adolescent health, contraception and family planning.
Dr. Perritt collaborates with various organizations to provide ongoing support and subject matter expertise on sexual and reproductive health, family planning and reproductive justice. Dr. Perritt is a graduate of Howard University College of Medicine and completed her residency training in Obstetrics and Gynecology at Pennsylvania Hospital in Philadelphia, PA. She completed a Family Planning Fellowship at The Johns Hopkins University in Baltimore, MD. During her fellowship training, Dr. Perritt received a Masters Degree in Public Health from The Johns Hopkins Bloomberg School of Public Health. After completion of her fellowship, she returned to her hometown of Washington, DC where she served as the Medical Director at Planned Parenthood of Metropolitan Washington DC, Inc. from 2011-2016.
Dr. Perritt is a passionate advocate for reproductive health, rights and justice. She has worked closely with the Physicians for Reproductive Health, Advocates for Youth, Reproductive Health Technologies Project, Planned Parenthood Federation of America, and other organizations in support of access to comprehensive reproductive health care. Dr. Perritt is a Fellow of the American Congress of Obstetricians and Gynecologists (ACOG), a member of The Association of Reproductive Health Professionals and the Society of Family Planning. She serves as Vice Chair on the ACOG Committee for the Health Care for Underserved Women and as liaison to the ACOG Committee on Gynecologic Practice.
Mandisa Routheni is blessed to be a mother and a wife; and to be apart of a larger village working for justice and peace for black folk, children, and the greater human family. In line with the writings of Bahá'u'lláh, Mandisa believes "the well-being of mankind, its peace and security, are unattainable unless and until its unity is firmly established. Mandisa comes from adventurers, scholars, artists, entrepreneurs, and matriarchs. She is a 6th generation Black New Mexican (yes, we're here!). Mandisa is proud of her work in developing curriculum, events and professional development that explores equity and policy. Mandisa is interested in economic empowerment; communications putting the public in policy; and how the sociology of organizations contributes to groups being solutionaries (or not).
Mandisa currently works at the New Mexico Association for the Education of Young Children, where she supports Early Childhood Professionals to soar. Mandisa is a member of the National Association for the Education of Young Children's Affiliate Advisory Council, Friends of Africana Studies Advisory Team and the New Mexico Women of Color Nonprofit Leadership Initiative. Mandisa is an Institute for Policy Studies' New Mexico Fellow. She served as Vice President of Africana Leadership Opportunity Team—a hybrid organization providing Africana based PD & programming. Mandisa also worked within the University of New Mexico Community Engagement Center, and completed three AmeriCorps terms. Mandisa is a recipient of the Ella Baker Leadership & Service Award and Sara Belle Brown Community Service Award. She is a published poet; McNair Scholar; Ankh Maat Wedjau Honor Society Member; and University of New Mexico Africana Studies alum. Mandisa gathers strength from words—poetry, lyrics—and the Sandia Mountains. Mandisa finds the most joy in expressing and living her own self; AND with her husband and daughter, who remind her that the universe bends towards justice/love.
Hunter Ashleigh Shackelford
Hunter Ashleigh is a Black fat cultural producer, multidisciplinary artist, nonbinary shapeshifter, and data futurist based in Atlanta, Georgia, with roots in Richmond, Virginia. She is the creator and director of a Southern body liberation organization, Free Figure Revolution, that centers decolonizing antiblack body violence. Hunter loves twerking, uncrustables, and writing children's books. Currently, they are working as the Artist-in-Residence at Solutions Not Punishment Collaborative, an organization dedicated to creating Black trans futures in Atlanta.
Vanessa Taylor is a writer based out of Philadelphia, although the Midwest will always be home. Originally getting her start as an organizer in Minneapolis, she uses writing as an extension of community work. Through articles, essays, fiction, and more, she focuses on exploring the intersections of Black Muslim womanhood and the taboo. Her articles have appeared in outlets such as Teen Vogue, Al Jazeera English, and The Intercept. Her essays and fiction have appeared in Catapult, as Editor's Pick in Barren Magazine, and in Belt Magazine — where she received a Pushcart Prize nomination. In 2017, she was a fellow with Muslim Wellness' inaugural Deeply Rooted Emerging Leaders class.
Janna A. Zinzi (also known as jaz) is a strategist and storyteller using language and performance to uplift the voices and stories of people of color, especially women and gender non-conforming people. She has over a decade of experience in strategic communications and public relations working with social justice organizations and advocates, artists and entrepreneurs.
Janna has returned to her creative love of writing covering arts, culture and spirituality from a travel lens. Her work has appeared in Teen Vogue, The Daily Beast and The Root; and she also writes for the Marguerite Casey Foundation's Equal Voices News. She uses dance to challenge stereotypes and explore themes of artistic expression, race and feminism, and will be leading sensual movement workshops based on her studies of burlesque as a liberatory practice.
Angela Bronner Helm is a journalist and editor with more than 20 years of experience in media. She began her career at The Source magazine during hip-hop's golden era and is a founding editor of Honey magazine. She and has held top editorial positions at Uptown and Essence magazines; she also served for six semesters as an adjunct professor of journalism at the City College of New York. Most recently, Angela was an editor at The Root, where her focus was on racial, social and reproductive justice, mental health and culture. She currently is Sr. Editorial Director at Colorlines, a nonprofit news site committed to racial equity and centering the voices of marginalized people. In 2018, she received The Rosalynn Carter Mental Health Journalism Fellowship.
For the last several years, Angela has been an editor with Echoing Ida, a writing project for Black women and nonbinary folks to amplify their voices in media. She has also taught media literacy to 16 and 17-year-olds incarcerated on Riker's Island and later at Horizons Youth Correctional Center in the Bronx, New York. Angela has a B.A. in women's and gender studies from Amherst College and an M.A. in journalism and cultural reporting and criticism from New York University. She is a longtime resident of Harlem but has recently made her way to the suburbs, where she often wonders if she's on another planet.
Dr. Cynthia R. Greenlee is a writer and historian. A native Southerner, Cynthia has a master's in journalism from the University of North Carolina and a doctorate in American history at Duke University. She specializes in African-American women's and legal history of the late nineteenth and early-twentieth centuries. She began her writing career with an unintelligible picture book at age 5, worked as a newspaper journalist and editor, and later in communications for international health organizations. Today, she is a senior editor at Rewire.News. In her other work, she writes historically informed pieces that connect the contemporary (and sometimes the personal) with current events and policies related to race, the arts and reproductive issues. Her writing has been published at American Prospect, Dissent, EBONY.com, Elle, Longreads, Ms. Magazine, Munchies, Narratively, Rewire.News, Salon, Smithsonian, and the Washington Post, among other outlets. She is currently at work on two projects: a manuscript about black girls and the law, and a second book about African-Americans and abortion.
Carla Murphy is a social justice journalist and editorial consultant. Her struggle as a reporter to cover news for, not about, marginalized or low-income communities fuels her current focus on journalism reform. Through the News Integrity Initiative, she leads or co-leads data-driven diversity projects for student and working journalists of color and newsroom management. She is editor of the Lewis Raven Wallace podcast, The View from Somewhere and has been commissioned by the Center for Community Media to research and write, The State of Black News Media in the U.S. (forthcoming).
She is a new essayist on class, race and power in media, supported by the Economic Hardship Reporting Project (EHRP). A long-time freelancer, she is also formerly a staff reporter for Colorlines.com and a contributing editor and investigative reporter at the Investigative Fund at The Nation Institute now, Type. She has reported in Haiti and on the Haitian diaspora in the wake of the 2010 earthquake and covered criminal justice reform and police violence in Baltimore, New York City and Chicago. Educated in New York City and London, she is a sometimes Spanish-speaker, an immigrant from the rural Caribbean, and a first-generation college student.