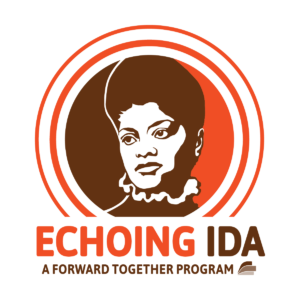 Amplifying the voices of Black women and non-binary writers.
Quote
The way to right wrongs is to turn the light of truth upon them.
About Echoing Ida
We need media we can trust. It should reflect the world around us and help untangle our communities' most pressing concerns.
But too much of our media ignores or misrepresents the way race and gender impact every part of our lives. That's why we created Echoing Ida: a home for Black women and non-binary writers to speak truth and be heard.
Our writers follow the legacy of journalist and radical truth-teller Ida B. Wells-Barnett, who wrote unapologetically against the racism and sexism of her time. As thought leaders and skilled communicators for social change, Echoing Ida writers bring the stories of our families and communities to light.
What We Do
Echoing Ida is a growing home for Black women and non-binary writers. By connecting writers to the skills, relationships and opportunities they need, we amplify critical voices, move the needle on our most important issues and create a new generation of thought leaders.
Join Us
The Truth-Teller Network
Echoing Ida is also a growing network of readers, writers and media makers. Our network of thousands stays connected through newsletters, quarterly calls, and advocacy opportunities that highlight our communities' most urgent needs.