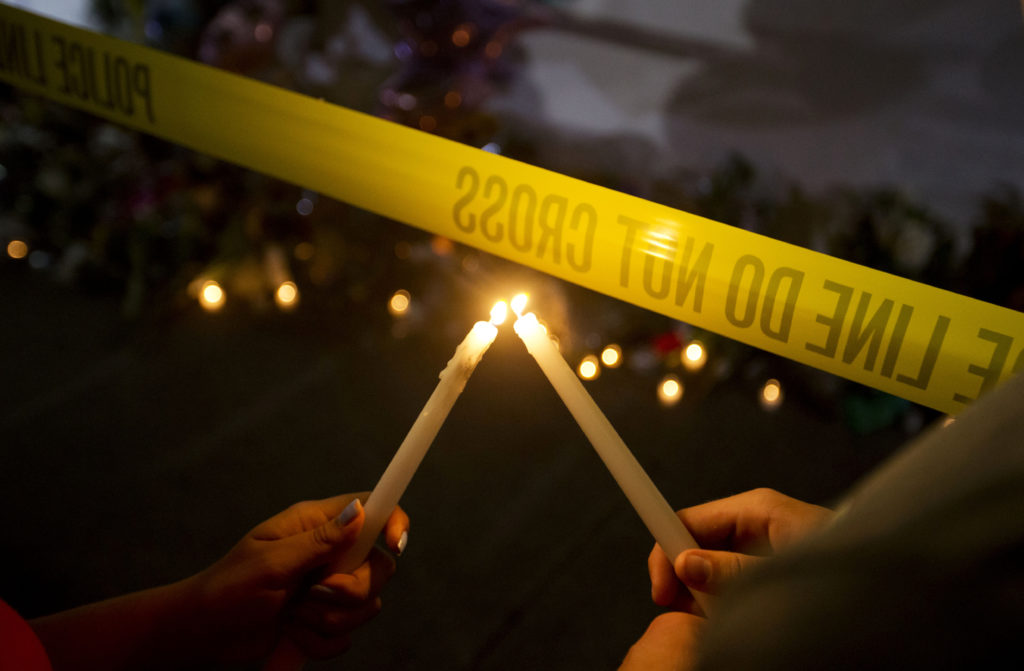 Olina Ortega, left, and Austin Gibbs light candles at a sidewalk memorial in front of Emanuel AME Church where people were killed by a white gunman Wednesday during a prayer meeting inside the historic black church in Charleston, S.C., Thursday, June 18, 2015. (AP Photo/David Goldman)
White Christian Allies, Talk About Race From Your Pulpits
June 19, 2015
I don't want to pray for Charleston. I can't. I am an Itinerant Elder in the African Methodist Episcopal Church, yet, prayer doesn't seem like enough. I need action. I need change.
The group of faithful members of Emanuel African Methodist Episcopal (AME) Church in Charleston, South Carolina, were praying Wednesday night when a shooter invited himself into the church and terrorized the members, leaving nine dead. A 5-year-old little girl had to play dead just to survive. This imagery instantly takes me back to the history of violence in churches due to hundreds of years of anti-black racism. It's a memory that takes us back to the day four girls were murdered in the bombing of the 16th Street Church in Birmingham in 1963.
The AME Church has been an ark of safety for me for a long time. My parents dropped me off at church a few times a week for activities, leaving me in the care of other adults who taught me. We never imagined anything would happen at the church. I'm sure that's what the parents of the 5-year-old survivor thought when they left her at church.
And yet, the AME church was formed to escape the violence of racism.
↓↓
-->