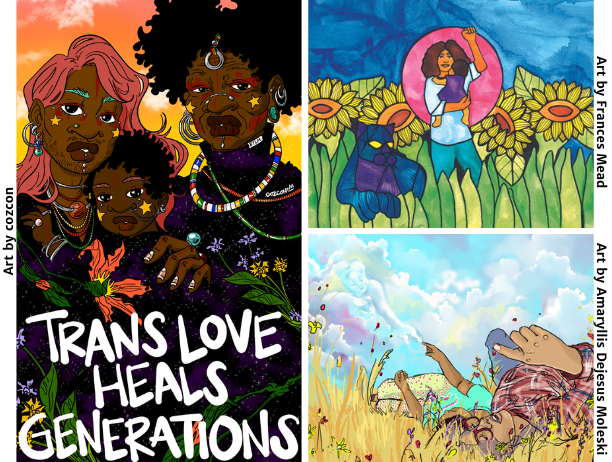 A picture collage showing pieces from 3 different artists. On the left is a piece by cozcon, it depicts a Black trans family with child centered in front of an orange sunset sky. There are hues of purple and indigo with text that reads, "Trans love heals generations". In the upper right is a piece by Frances Mead featuring a Black mama holding her baby in a green field of sunflowers, in front of them lays a Black Panther. In the lower right, is a piece by Amaryllis DeJesus Moleski, showing a parent and child laying in grass with hands extended to a cloud in the shape of a human. They are surrounded by pastels and soft brush strokes.
A Letter To Our 2022 Supporters
February 21, 2023
Dear Forward Together Supporters:
We are grateful for your commitment to reproductive justice, grounded in queer and trans liberation.
Thank you for donating, sharing our art, taking action on birth justice, following us on social media and all the different ways you stand in solidarity with us.
We are starting this new year energized to continue challenging dominant and oppressive cultural narratives and pushing towards the liberated future we all deserve. With your support, we will:
Keep visioning new futures for Reproductive Justice alongside our comrades in the movement, as outlined in this Reproductive Justice Declaration, co-created by 30+ reproductive justice organizations and co-anchored by SisterSong Women of Color Reproductive Justice Collective, Unite for Reproductive & Gender Equity (URGE), Collective Power and Forward Together. Reproductive justice is our framework, intersectionality is our lens, and liberation is the goal.
Release "Building Irresistible Movements: Best Practices Guide for Organizations and Visual Artists," a guide on ethical collaboration with artists informed by years of learnings by artists, organizers and from Forward Together's cultural organizing projects, like Mamas Day and Trans Day of Resilience.
Work alongside our comrades in New Mexico to open a community-driven full-spectrum reproductive healthcare center, known as the Reproductive Healthcare Success Project, in Doña Ana County, in partnership with community members and a community advisory board.
Amplify the work of the Birth Justice Policy Committee in Oregon, as it hopes to expand the Birth Justice Fund; continue hosting skill-share sessions on topics including suturing and self-administered pap smears; create a podcast, book club and zine; and host a caregiver retreat.
Thank you for being part of this work. We invite you to continue envisioning a liberated future with us in 2023.

In solidarity,

Wendy Calimag & Diana Lugo-Martinez, Co-Executive Directors

Forward Together & Forward Together Action

P.S. For more regular updates on our work, stay tuned for our quarterly newsletter and connect with us through Instagram, Twitter and Facebook!

-->