4 Latine Led Reproductive Justice Organizations You Need To Know
November 1, 2022
We know that the Latine community is a core part of the fabric of this nation, but their contributions to our culture, labor, and caregiving are too often overlooked or dismissed. Even when Latine voices are included, disabled, queer, Black, indigenous, and trans Latines still remain on the margins. 
At Forward Together we know that centering liberation on the most marginalized communities frees us all. We are committed to building a world where all Latine families can receive the love, care, and support they need to thrive. 
Below are a few Latine organizations you can support beyond Latine Heritage Month. 
The TransLatin@ Coalition
The TransLatin@ Coalition envisions a world where transgender, gender nonconforming, and intersex (TGI) people are granted dignity, respect, and autonomy in society reflected through policies and systems that dictate our ability to live. Their purpose is to amplify education, policy, and resources to empower Transgender leadership to fulfill this vision.
The organization provides direct services to our TGI community with services such as Legal Services, Re-Entry, Violence prevention, PrEP/PEP, Drop-In Center, The Center of Excellence Program for Elderly Trans (C.E.E.T), HOPE house, which is our transitional house, and T.R.U.E program working directly with the city of West Hollywood and many more programs and services in development.
Here is how to support The TransLatin@ Coalition:
The TransLatin@ Coalition Website
The TransLatin@ Coalition on Instagram
The TransLatin@ Coalition on Facebook
The TransLatin@ Coalition on Twitter
The Translatin@ Coalition on Tik Tok
Donate to The Translatin@ Coalition
Bold Futures NM
Bold Futures NM (formerly Young Women United) is a New Mexico based reproductive justice organization led by and for women and people of color with a commitment to building communities where all people have what we need to make real decisions about our own bodies and lives. Bold Futures NM elevates an intersectional vision of reproductive justice through policy change, research, place-based organizing, and culture shift strategies. This multi-faceted approach allows Bold Futures NM to center the lived experiences and expertise of those most impacted by an issue as we work to build supports, structures, and systems where all people can thrive.
Familia: Trans Queer Liberation Movement (TQLM)
Familia: Trans Queer Liberation Movement was founded in 2014 by trans queer chingonxs fighting at the local and national levels to achieve the collective liberation of our people through community building, organizing, and education. Notably, Familia: TQLM shut down an LGBTQ detention pod in Santa Ana back in 2016 and has long been advocating for the rights of transgender immigrants to be released from detention centers. Familia's national petition is still active and demands President Biden and DHS Secretary Mayorkas end the detention of trans people, as well as anyone diagnosed with HIV or other critical medical conditions.  
This year during Pride month Familia took their #NoPrideInDetention campaign to another level with 11 actions, engaging more than 800 people. The #NoPrideInDetention was launched as a call to action within the queer community to raise awareness of the injustices trans and queer immigrants continue to face in detention centers. In the face of anti-LGBTQIA, anti-immigrant laws attacking our community nationwide Familia has our back. 
Familia: TQLM won't stop until trans people are free, and until trans people can all live a life with dignity, joy, and respect. 
#EndTransDetention NOW! Join us!
FTQLM Website: https://familiatqlm.org 
#EndTransDetention Campaign Website: https://www.endtransdetention.org 
Petition: https://www.endtransdetention.org/petition 
Support our movement through social media: @FAMILIATQLM on all platforms
IG: https://www.instagram.com/familiatqlm/ 
Twitter: https://twitter.com/familiatqlm 
Facebook: https://www.facebook.com/Familiatqlm 
Tik Tok: https://www.tiktok.com/@familiatqlm 
COLOR Latina (c3)
The Colorado Organization for Latina Opportunity and Reproductive Rights (COLOR Latina) is a community-rooted organization that works to enable Latinx individuals and their families to lead safe, healthy, and self-determined lives. We are committed to justice and equity as human rights. We value creating safe spaces to support the intersectional nature of our Latinx communities through advocacy, leadership development, and organizing across Colorado.
In April of this year, COLOR lead the passing of the Reproductive Health Equity Act (RHEA), which codified abortion and contraceptive access in our state. RHEA was the first time abortion was ever defined in the legislation in Colorado, and it was the first bill to use gender-neutral terminology to ensure that we were affirming the experiences of all Coloradans, such as trans men, non-binary, and gender non-conforming people.
Calls to Action:
Support our work by setting up a monthly donation to COLOR at bit.ly/DONATE2COLOR – together, we build power! Or – To help us sustain our organizing work across Colorado, make a one-time donation today at www.colorlatina.org
Unite for Reproductive & Gender Equity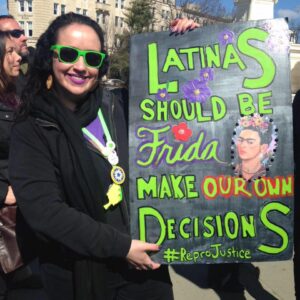 URGE: Unite for Reproductive & Gender Equity, is a youth-driven, BIPOC-led reproductive justice organization building power in the South, Midwest, and California. URGE envisions a liberated world where we can live with justice, love freely, express our gender and sexuality, and define and create families of our choosing. URGE's Young People's RJ Policy Agenda demands justice for LGBTQIA+ Latine folks and URGE advocates for state, federal, and local policies including justice-forward immigration policies, non-discrimination ordinances, and decriminalization of self-managed abortion. The organization's Executive Director Kimberly Inez McGuire is proud to have helped create and support the first introductions of both the HEAL for Immigrant Families Act and the EACH Act, is a current co-chair of the Abortion On Our Own Terms campaign to normalize self-managed abortion, and serves on the Boards of SIECUS: Sex Ed for Social Change and Groundswell Fund.

We know that LGBTQIA+ Latine folks live at the intersections of multiple injustices. In order to advance legislation to defend democracy, advance just immigration policy, protect abortion rights and stop the attacks on trans youth, we need Congress to work for the people. YOU CAN HELP by demanding that the Senate abolish the racist filibuster – Take Action here! You can also Donate to support Latine and BIPOC youth leadership and help URGE halt abortion bans in the South and Midwest.

-->